Hockey School
2021-2022 Hockey School Registration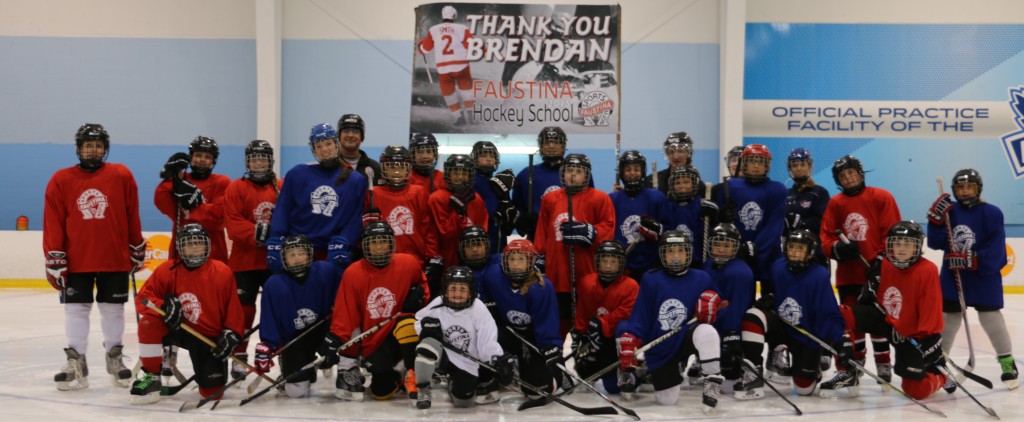 Our Hockey School Includes:
Sweater (Must be worn at all times)
On ice instruction from Faustina Hockey Club Coaches
10 hours of Sweat, Skills, Improvement and Fun
Location: Ford Performance Centre 400 Kipling Avenue
Cost is  $350.  Sorry, no refunds.
Session Dates:
Thursday evenings and Saturday mornings
– Sept 2nd, 9th, 11th, 16th, 18th, 23rd, 25th, 30th
– Oct 7th, 14th
Important notes:
* Dates and times are subject to change.  Please visit this page prior to the start date for any changes
* Please put the dates in your calendar as we are not able to send reminders
* There is an overlap in ages (e.g. age 7 could be group 1 or 2).  If your child is in an overlap year, if they are a strong skater, choose the higher level and if they are a newer skater choose the lower group.
Session Times:
Group 1 (ages 5, 6 and 7)
Thursday evenings (6:00 – 7:00 pm) and Saturday mornings (7:00 – 8:00 am)
– Sept 2nd, 9th, 11th, 16th, 18th, 23rd, 25th, 30th
– Oct 7th, 14th
Group 2 (ages 7, 8 and 9) 
Thursday evenings (7:00 – 8:00 pm) and Saturday mornings (8:00 – 9:00 am)
– Sept 2nd, 9th, 11th, 16th, 18th, 23rd, 25th, 30th
– Oct 7th, 14th
Group 3 (ages 9, 10 and up)
Thursday evenings (8:00 – 9:00 pm) and Saturday mornings (9:00 – 10:00 am)
– Sept 2nd, 9th, 11th, 16th, 18th, 23rd, 25th, 30th
– Oct 7th, 14th