NYHL Select -VS- GTHL A/AA
Select Hockey is governed by the North York Hockey League and A/AA/AAA is governed by the GTHL.
The operations and competition structure for Select Hockey is very different than that of the GTHL.   NYHL Select players also play House League with their local organization (Like Faustina).  In the comparison below the costs of House League and Select are both included in the NYHL section.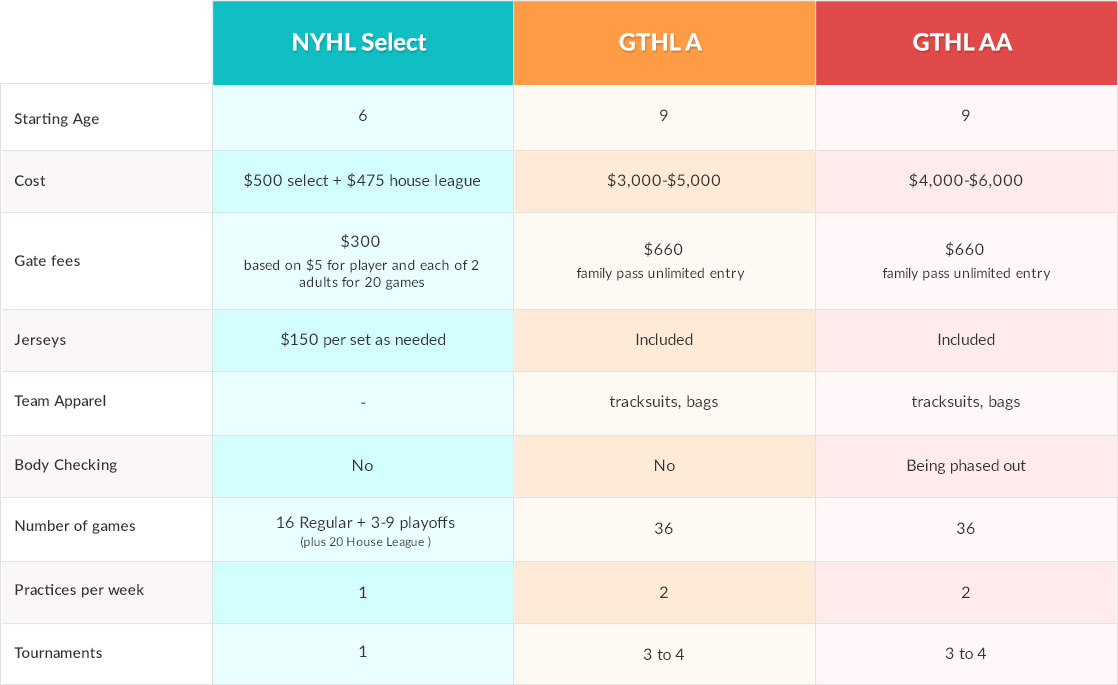 Cost over time
The following chart provides an illustration of cost comparison between NYHL Select and GTHL A/AA Hockey.  The left most column (Select) is based on current pricing for Faustina Hockey.  The A/AA pricing are benchmarks which may vary  slightly from team to team.  Many GTHL players play from 9-17 years old so we have illustrated an 8 year cost comparison.

Competition Level
In the NYHL, Select teams are "Tiered" with the most competitive teams playing "Tier 1".  The number of Tiers vary from year to year based on the division but you may see 4 to 6 different Tiers.   With the Tiered system, teams are more likely to be playing competitors of similar skill level.  The NYHL sets Tiering in October of each season and then adjusts Tiering where needed in January.  As teams improve, they will move up through the Tiering system.
In the GTHL, groups are divided by region (East vs West) without Tiering.
The chart provides a general illustration of common areas of "competition overlap" between NYHL Select and GTHL A/AA Hockey.  In certain years the illustrated overlap may be slightly more or less but this provides a visual guide. GTHL AAA is where the most Elite hockey players play.

What Select Hockey Is All About
The "Sweet Spot" of Select Hockey 
Many families find that Select Hockey represents the "Sweet Spot" in the competitive yet fun spectrum.  Players get to participate in competitive hockey with their Select Teams but also get to play against their Select Friends (many of whom are neighbourhood or school friends) in  House Leage –  all with a financial and time commitment that is very reasonable.
Should you play NYHL Select or GTHL Hockey? 
That is a very personal decision for each family.  We hear many comments that other than the increased cost & time  commitments, that playing on A level hockey and lower level AA hockey teams  can be very similar to higher tier select.
For Elite players, there is no question that higher end AA and AAA hockey is a very different stream.
The charts above are designed to provide new families to the Hockey picture with a visual guide of the cost differences competition overlap.
One of the benefits of Select hockey is its tiered by competition level and Tiers are revisited 1/2 way through the season each year so there is less likely to be a team that spends a season not being able to compete.
In the GTHL, because there is no tiering, less competitive teams are more likely to struggle which can be a tough experience given the cost and time commitment.
At Faustina we are all about kids playing hockey and having fun.   Over the years, we have cheered on many Elite players who started here and who thrived in Top AA and AAA hockey, with some  who have even gone all the way to the Pros.  We also have seen many families enjoy trying A – AAA hockey and return back to Faustina to find more life balance.
We look forward to cheering your player on in their enjoyment of the game whether at House League, Select or GTHL hockey.